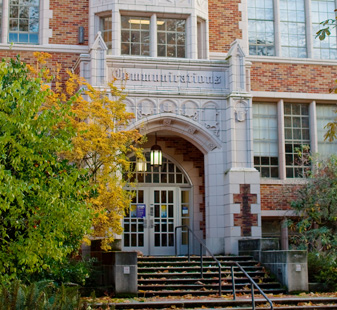 The Center for Journalism, Media and Democracy (formerly The Center for Communication and Civic Engagement) is dedicated to understanding communication processes and media technologies that facilitate democracy. CJMD is located in the Department of Communication at the University of Washington. Students and faculty at the center work together on original research, educational programs, and public engagement.
Our mission is to advance understanding of the role journalism and media play in democratic societies. Through research, teaching, and public engagement, we explore connections between public institutions, the press, and digital platforms with the aim of identifying the forces that undermine and those that bolster quality information, robust engagement, government accountability, and core democratic values.
OUR PARTNERS, SUPPORTERS AND COLLABORATORS
The Center for Journalism, Media and Democracy is proud to acknowledge the support of a number of funding partners, including: The John D. and Catherine T. MacArthur Foundation, The Surdna Foundation, The Belgian Science Policy Foundation, The Norcliffe Foundation, The Charlotte Martin Foundation, The Pew Charitable Trusts, The Annenberg Policy Foundation, The Center for Information and Research on Civic Learning and Engagement, and The Microsoft Corporation.
We are also indebted to our many friends at the University of Washington: the Dean of Arts & Sciences, the Provost, the Royalty Research Fund, the Mary Gates Fellowship Fund, the Departments of Communication and Political Science, and the growing number of individual donors who have contributed to our many student and community projects.
For questions about donations, please contact us at: adruss@uw.edu
CONTACT US
Center for Journalism, Media and Democracy
Department of Communication
University of Washington
Box 353740
Seattle, WA 98195
EMAIL: uwcjmd@uw.edu