One of the core activities of CCCE is tracking and studying various issue campaigns. We are particularly interested in campaigns that redefine the boundaries of traditional politics and communication. For example, many of the political issues that engage citizens today involve broad coalitions of both traditional political organizations and direct activist groups and networks. Such campaigns combine conventional citizen activities such as voting and contacting government officials with direct action such as boycotts, public information campaigns, and the use of the Internet for educational and movement mobilizing purposes.
Many of these campaigns are also transforming the traditional geographic locations of politics from nations and particular institutional jurisdictions within them, to more fluid arenas of politics ranging from the local neighborhood to global action networks. We are interested in understanding how traditional and direct citizen action work together, and how new communication media such as the Internet shape the course of these campaigns.
This portion of the CCCE web site offers examples of different organizations and resource sites that are typical of these campaigns. In the future we plan to add visual representations of these campaign networks that show the strategic and changing relations among organizations involved in these campaigns. We also plan to develop various ways of describing and assessing how these campaigns attain various political goals, such as getting citizens involved in public life, shaping the coverage patterns of traditional news media, and influencing corporate behavior and government policy.
Our ultimate goal is to make a wide variety of these campaigns available for policymakers and scholars to study, and for citizens to follow and to join, in ways that advance the goals of meaningful civic engagement.
CCCE does not advocate particular positions in these campaigns. We are interested in understanding how they work.
Campaigns (see below)
Nike/Anti-Sweatshop Campaign
Campaign against the WTO
Campaign against the IMF/ World Bank
Microsoft Antitrust Campaign
Links to other campaigns
Labor Standards
Fair Trade Coffee Campaign
Fair Trade coffee links
Starbucks Campaigns:
Organic Consumers Association Starbucks campaign.
For a narrative account of the earlier Global Exchange Starbucks campaign, look at the Deborah James interview here (the link to the interview is at the bottom of the page).
For the more recent Global Exchange Starbucks campaign, look here.
Nike Campaign
The Nike Anti-Sweatshop campaign is one branch of a larger global movement aimed at raising awareness about labor conditions in manufacturing zones of developing nations where major global corporations increasingly contract for the manufacture of their products. There are hundreds of web sites concerning these issues.
Strategic Public Relations, Sweatshops, and the Making of a Global Movement by BJ Bullert – An overview of the Nike Sweatshop campaign.
Chronology of the Nike Sweatshop Labor Campaign by Jeff Ballinger (Press for Change)
Primary Nike/Anti-Sweatshop Campaign Network Sites
WTO Campaign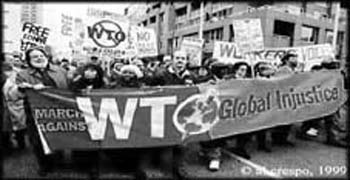 In late November 1999, tens of thousands of environmental activists, trade unionists, faith-based activists and others gathered in the streets of Seattle to protest the Millennium Round of meetings being held by the World Trade Organization, the international body charged with creating and enforcing trade agreements among many of the world's nations. Activists accused the WTO of being undemocratic, undermining environmental regulations and promoting anti-labor and anti-human rights policies. The Internet figured heavily in the mobilization. For a detailed oral history of the Battle of Seattle protests against the WTO in 1999, see the WTO History Project, a collaborative effort between CCCE and the Center for Labor Studies.
Response from Campaign Target
World Trade Organization
Primary WTO Campaign Network Sites
Adbusters Magazine
American Lands Alliance
WTO History Project
Institute for Agriculture and Trade Policy
IATP's WTO Watch
International Forum on Globalization
People's Global Action
Public Citizen's Global Trade Watch
Third World Network
The International Monetary Fund (IMF) and the World Bank (WB) are accused of fostering an unjust, destructive and corporate-controlled world economy. These institutions lend money to needy nations and impose rules on those nations as a condition of the loans that affect their development plans. In April 2000, IMF and WB ministers meeting in Washington, DC faced protests similar to the WTO protests in Seattle just months earlier. The Internet figured heavily in the education and mobilization efforts.
Responses from Campaign Targets
International Monetary Fund
World Bank
Primary IMF/WB Campaign Network Sites
Bank Information Center
Center for Economic Justice (CEPR)
Corporate Watch
Economic Justice
Economic Policy Institute
Essential Action
Global Exchange
International Action Center
Jubilee South
Public Citizen Global Trade Watch
The Development Gap
Witness for Peace
Microsoft Campaign
The US Department of Justice suit is an important development in a campaign involving business competitors, high-tech professionals and Internet activist organizations. The resources listed here represent many of the networked organizations involved in the campaign.
Primary Microsoft Antitrust Campaign Network Sites
Resources
FindLaw.com
US Department of Justice
Washington Post – Ongoing Media Coverage
Antitrust Campaign Sites
Appraising Microsoft Conference
Boycott Microsoft
NetAction