PSO news (June 2009):
PSO youth web project wins national award

PugetSoundOff.org has won an award from the Public Technology Institute (PTI) for best web and e-government services. The award was presented at the 2009 Technology Solutions & Innovations Conference & Exposition, May 12-14, 2009 in San Diego. The CCCE has worked with the City of Seattle Department of Information Technology and the Seattle Metrocenter YMCA to develop the Puget Sound Off website, curricula, and project partnerships in the community.

An array of Seattle youth organizations, including teams at Youth Media Institute, Rainier Vista Neighborhood House and Horn of Africa Services have led the use of the site developing online groups and posting video, blogs, photos and more. The Mayors Youth Council and the City's Citizens Telecommunications and Technology Advisory Board have also helped in developing the project.

This award recognizes the unique opportunity Puget Sound Off provides for online youth expression and civic engagement. PSO provides area teens with a community networking and online engagement site, together with on-the-ground training in media literacy, cause-related journalism and content development. The site also features tips for online safety and a Flash-based curriculum on digital communication skills, which the CCCE has been instrumental in developing through the Surdna Digital Youth Advocacy Skills program. This CCCE curricula has been packaged on the "how to" section of the PSO site in a library of interactive videos to help youth master blogging, digital storytelling, and other multimedia skills.

Many of these curriculum videos were created by undergraduate interns and graduate students participating in the CCCE's Becoming Citizen's Program. The content of these curricula have been informed by CCCE research on digital media and civic learning, supported by the MacArthur Foundation.

Visit PTI for more information on the PTI competition and PugetSoundOff blogs to see an array of new blog posts, video and images on what youth are "sounding off" about today!
What is Puget Sound Off (PSO)?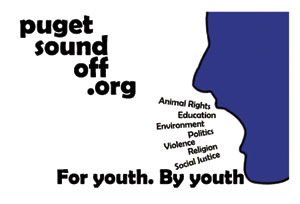 Puget Sound Off is a training program and youth-driven website that provides Seattle-area youth with a forum for discussion, artistic expression, and action as a way to empower and encourage them to develop a strong public voice. The PSO site includes issue and group pages (for local youth organizations) contains blogging, polling, user content, creative user multimedia, calendar, jobs and group networking features.
Why is it important?
PSO is an opportunity to apply the principles of citizenship and media literacy to empower young people in the region of Seattle to express themselves, connect to local resources, share values and concerns, and engage with each other and policymakers in seeking solutions and taking action.
Key Partners
City of Seattle Community Technology Program
Metrocenter YMCA Seattle
University of Washington Center for Communication and Civic Engagement (CCCE)
Online features
Events calendar
Teen jobs and internship listings
Local band directory
Photo/art galleries
Local youth resources
Digital media, information literacy and civic engagement skills training
For youth groups: Page templates to give greater voice to the organization or present and discuss a specific topic. These templates include blogs, polls, links, photos, commentary, ratings, groups, ability to include video and more.
For individual youth: Pages to manage your involvement in Puget Sound Off. From one page, manage your blogs, comments, multimedia.
The site was launched in 2008