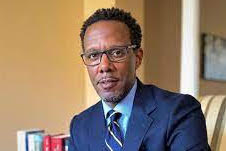 David D. Wilson, dean of UC Berkeley's Goldman School of Public Policy, the latest participant in CJMD's Spotlight speaker series, talked this week about the need to reframe thinking about the attitudes that work to stall progress on racial equity in the U.S., a topic he explores at length in his forthcoming book, Racial Resentment in the Political Mind. 
We tend to think about prejudice—negative feelings held toward a group—as the main problem, Wilson said. Instead, we might better think about resentment—or negative reactions to perceived injustice. Wilson explained that, what seems like an increase in racial prejudice or hatred can more accurately be described as an increase in resentment, and corresponding defensiveness on the part of white people to perceived threats to entitlement. 
Wilson co-wrote Racial Resentment in the Political Mind with University of Notre Dame Lilly Presidential Fellow and American Politics Prof. Darren W. Davis. The book seeks to to underscore the power of racial resentment, which Ta-Nehisi Coates called "a politically correct term for 'bigots.'"  Essential to resentment, Wilson explained, is the motivation to address perceived injustices. In the case of white supremacy, this comes in the form of extreme opposition to efforts to address racial inequity.
Not surprisingly, when applied to politically active groups outside the status quo—those involved in the Black Lives Matters movement and activists struggling for climate justice, for example—justice takes on radically different meaning, one centered on equity and the lived experience of oppression. In both cases though, shifting our conceptual lens from the notion of racial prejudice to racial resentment can provide a more nuanced understanding of political beliefs and behaviors of U.S. publics.